Overview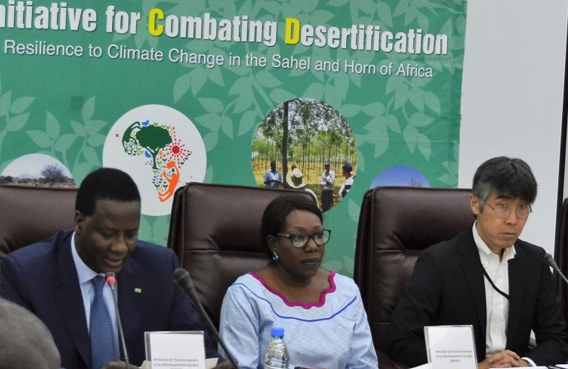 Opening speech being delivered by Mr. Amedi Camara, Minister of Environment and Sustainable Development, Mauritania
The 3rd Regional Forum for the Sahel region on African Initiative for Combating Desertification to Strengthen Resilience to Climate Change in the Sahel and Horn of Africa (AI-CD) was held from 16th to 18th of July 2019 in Dakar, Senegal. The highlight of the forum was the high-level political commitment to AI-CD shown by participating countries. As manifestation of this, Mr. Amedi Camara, the Mauritanian Minister for the Environment and Sustainable Development and Ms. Gogo Banel Ndiaye, the 1st Technical Advisor of the Ministry of Environment and Sustainable Development of Senegal took part in the forum.
Around 60 participants from six countries in the Sahel region attended (i.e., Burkina Faso, Cameroon, Chad, Mauritania, Niger, Nigeria, and Senegal) along with representatives of international agencies, namely: Japan International Cooperation Agency (JICA), Food and Agriculture Organization (FAO), International Center for Agricultural Research in the Dry Areas (ICARDA), European Union (EU), and United Nations Development Programme (UNDP).
At the opening session, Mr. Phillipe Zoungrana, representative of CILSS*, expressed willingness to continue the support for multisectors that make use of various knowledge of CILSS in combating desertification. Next to speak was Mr. Masakatsu Komori, Chief Representative of JICA Senegal Office, who introduced TICAD7 (7th Tokyo International Conference on African Development) to be held in August 2019, and expressed his expectation that the forum would be a venue to gain information and insights on knowledge sharing and fund access.
Finally, high-level government officials from a participating country, Mauritania, and the host country, Senegal, delivered their speeches. Mr. Amedi Camara expressed his hope that each country will work for the common goal of combating desertification through AI-CD. For her part, Ms. Gogo Banel Ndiaye welcomed all participating countries from the Sahel region and emphasised that an important process in combating desertification is when countries gather to share and discuss the results and concept notes, like the way they would be doing in the forum.
During the forum, an exhibit of Japanese and Senegalese products was organised to encourage partnership with private sector, a first attempt in the Sahel region under AI-CD.
* Permanent Interstate Committee for Drought Control in the Sahel (French: Comité permanent inter-État de lutte contre la sécheresse au Sahel, abbreviated as CILSS).
Highlights of the forum
(1) Introduction and progress on AI-CD implementation
Focal points or their representatives reported the progress of each country in terms of AI-CD's three pillars: (i) knowledge sharing, (ii) networking and (iii) access to finance. KEFRI*, a representative from the Horn of Africa, introduced the outcomes of the regional meeting in the Horn of Africa and the ongoing compilation of good practices that will be shared as the AI-CD guidelines at the 14th meeting of the Conference of the Parties to the UN Convention to Combat Desertification (UNCCD COP14). JICA reported Japan's contribution to the AI-CD, including cross-regional activities of the AI-CD Secretariat, and presented a Japanese technology for sand and dust storm (SDS) forecasting called SPRINTARS. For its input, the AI-CD Secretariat introduced communication tools launched by AI-CD, and reported the progress of the in-country workshop support programme.
* Kenya Forestry Research Institute
(2) Finalising the concept notes of CILSS Knowledge Sharing Database
Mr. Phillipe Zoungrana, representative of CILSS, explained the outline of CILSS Knowledge Sharing Database. Participants discussed actively on such issues as criteria for classification, securing sustainability and how to make the database operational. He explained that after finalising the concept notes based on their discussions during the forum, CILSS will be ready to develop the database.
(3) Country presentations and discussions for resource mobilisation
AI-CD Secretariat delivered a presentation on possible funding sources and on how to write concept notes. After which, each participating country of Sahel region discussed its concept notes while international organisations (UN Women, FAO and ICARDA) provided advice and feedback for improvement. These international organisations also talked about their undertakings in combating desertification.
(4) Exhibition
Visitors looking at leaflets and posters showcased in exhibition booths.
An exhibit of Japanese and Senegalese products, which can contribute in combating desertification, was held outside the conference hall during the forum. Materials and samples from five Japanese companies (Kagome Senegal Sarl; Mitsukawa Co., Ltd.; Yamaha Motor Co., Ltd.; TERAL Inc. and Tottori Resource Recycling Inc.) were exhibited. On the other hand, the participating Senegalese companies (Free Work Service, Agro Saafi, Maria Distribution and Esteval) were receiving support from UNIDO's project on low-carbon and climate resilient industrial development in Africa. Features of this project and its relevance to combating desertification were explained by UNIDO during the exhibition.