#Farmer Field School, #Extension Methodology, #Sustainable Natural Resource Management, #Semi-arid Land
Story Highlights
✔ The Farmer Field School (FFS) approach is an innovative, participatory, and interactive learning approach that emphasises problem-solving and discovery-based learning.
✔ The FFS approach aims to build farmers' capacity to analyse production systems, identify problems, test possible solutions, and eventually encourage them to adopt the practices most suitable to their farming systems.
✔ As a result of the project, efforts to institutionalise and scale up the FFS approach have been started by the implementing agency.
Background
The Oromia Region
The Oromia Region has the largest population (approximately 33.7 million in 2018) and area (353,000 km²) in the Republic of Ethiopia. The Rift Valley, which stretches from the Oromia Region to southern Ethiopia, is typical of Ethiopia's semi-arid lands.
Challenges in Natural Resource Management
Ethiopia is one of the countries in Sub-Saharan Africa most seriously affected by land degradation. Land degradation is a major cause of the country's low and declining agricultural productivity, persistent food insecurity, and rural poverty.
The Oromia Region is among the most degraded lands in the country, with large amounts of soil being washed away on scattered communal lands due to poor soil management practices. The use of wood and other biomass for fuel and the expansion of agriculture into forested areas foster a high rate of deforestation. This situation ultimately strips the land of vegetative biomass, exposing it to high levels of soil erosion.
Farmlands mainly cultivate cereals, such as teff and wheat, but their productivity is not so high because proper cultivation techniques have not been utilised. Therefore, the region needs to implement sustainable natural resource management to achieve both soil conservation and improvement in agricultural productivity.
Project Details
Project Purpose
Capacity of project stakeholders will be strengthened to promote sustainable natural resource management through FFS.
Project Period:
June 2013 – March 2018
Implementing Agency:
Oromia Bureau of Agriculture and Natural Resource, Federal Republic of Ethiopia
What activities were carried out by the Project?
Improving natural resources in the communal lands by practicing the techniques learned in the FFS, such as agro-forestry, vegetable farming, fodder and woodlot development
For farmers in the target areas of Ethiopia (and also in most developing countries), community woodlot development to promote livelihoods or reduce pressure on natural resources has been a big challenge because it takes a long time to make profit. Therefore, the project tackled this issue along with the following policies by using the FFS approach.
Combination with planting short-term crops / Agroforestry system
Seedling production by the farmers themselves
Capacity building and empowerment of farmers
Long term continuous interaction with farmers
Combination with planting short-term crops / Agroforestry system
Unlike most agronomic crops, trees take time to be harvested as food, fibre, fuelwood, timber, etc. So, farmers have to earn income while waiting for their investment to bear fruit. To fill the gap in income up to that point, an approach that combines various economic activities which farmers are interested in and gaining benefit in a short term was adopted.
Seedling production by farmers themselves
Promoting seedling production by individual farmers and forest cooperative was an attempt to break away from the conventional tree planting promotion activities based on public nurseries. Farmers were able to select the tree species that suited their needs, and seedlings became available even in remote areas that central public nurseries could not reach.
Capacity building and empowerment of farmers
The challenges faced by rural farmers were as follows:
(1) Little access to information
(2) Lack of knowledge and education
(3) Lack of experience on new practices
(4) Lack of surplus land for experimentation
(5) Lack of resources for new trials
(6) Existing high risk to failures
(7) Lack of confidence in decision making
These were the reasons why they could not try new ideas and continued with the conventional practices they felt safe with. The FFS approach tried to solve and tackle these issues by (1) providing weekly session, (2) having new learning topics every week, (3) learning by doing, (4) using host farm hence farmers had no worry risking their own land, (5) providing FFS initial materials for learning purposes, (5) all new techniques were already tested and proven effective by FFS participants themselves, and (7) FSS empowerment process made farmers confident experts.
Long term continuous interaction with farmers
The weekly sessions continued for a year and the activities, including the situation of the planted trees, were monitored by the FFS approach.
By conducting FFS continuously all-year around, technical guidance could be provided even during the dry season and the farmers continued learning. Eventually, the farmers themselves would become attached to their planted trees which was an important factor for the subsequent maintenance works and in ensuring sustainability.
What was the adoption rate of new enterprises and techniques?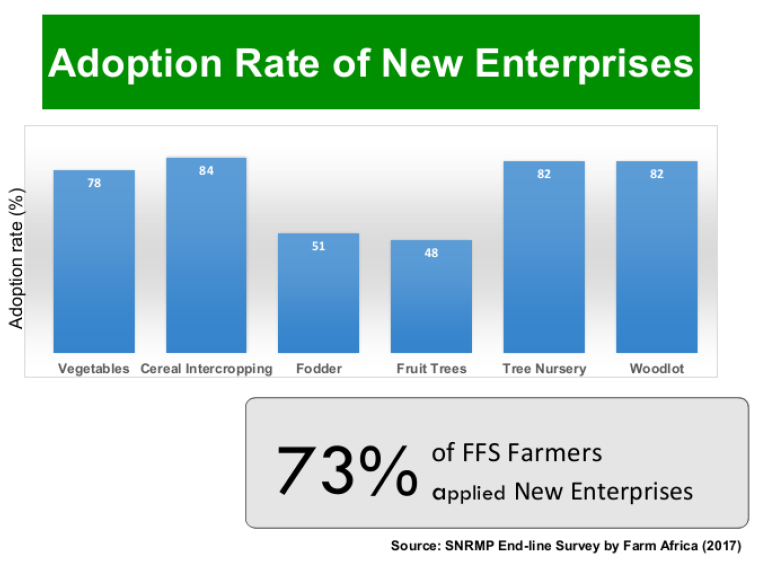 At the end of the project, the end-line survey was conducted and the result indicated that the adoption rate of new enterprises was 73%, as shown in the figure on the right.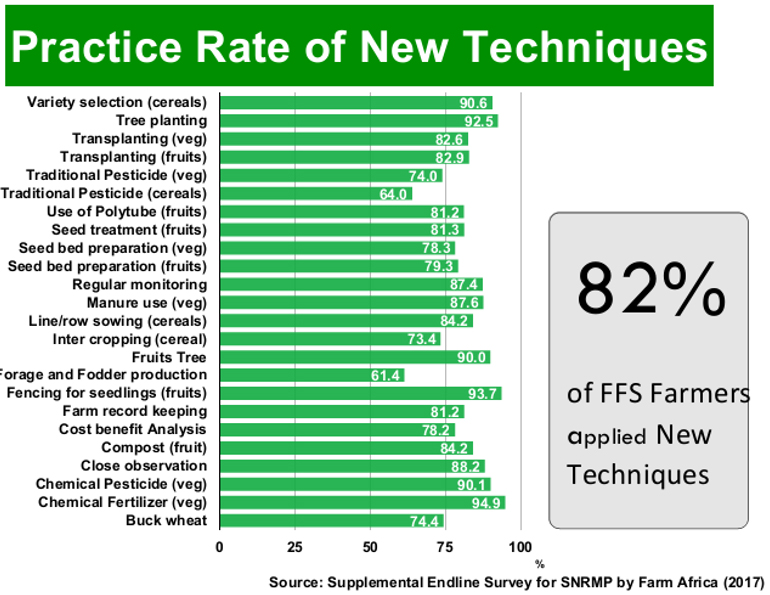 This figure shows that the practice rate of new techniques was 82% among FFS farmer-participants who applied new techniques introduced by the FFS approach.


For more information, check the manuals/reports
Report
[EN] Project Completion Report
Written by TEJIMA, Shigeharu
AI-CD Secretariat Support Team/Oriental Consultants Global